Jane McIvor, President
Senior Communications Executive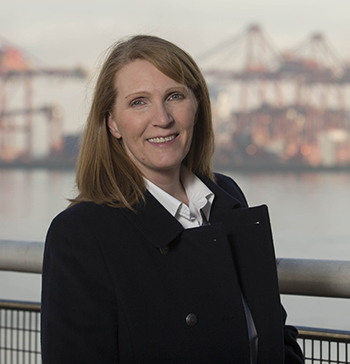 Jane McIvor has worked in the public relations and communications field for over 25 years, focusing on communications, marketing and project management, predominantly to the many sectors of the West Coast marine industry. She established McIvor Communications Inc. in 1998, providing association management services (including government, media and member relations) to a diverse roster of clients including Cruise BC, BC Marine Trades Association and other marine-related organizations as well as the Canadian Committee on Antibiotic Resistance.
From 2011 to 2019, she published BC Shipping News, a trade magazine focused on commercial marine activities on the West Coast of Canada. The magazine quickly grew to reach an audience of over 25,000 from B.C., Canada, the U.S. and around the world.
Currently, Jane is the Executive Director for the Association of Pacific Ports, a trade association dedicated to promoting increased efficiency and effectiveness of the ports of the Pacific.
Jane has a Bachelor of Arts in International Relations from the University of British Columbia and a Diploma in Communications from Columbia Broadcasting.
Jane has been a great advocate of volunteering and giving back to the community. She has sat as a director and committee member on the Boards of the Vancouver Maritime Museum, Royal Canadian Marine Search and Rescue, Mission to Seafarers Cycle for Seafarers, Canadian Marine Advisory Committee, Chartered Institute of Logistics and Transport (North America), Pacific Marine Advisory Committee, International Society of Sailors Canada, Regional Recreational Boating Advisory Committee, City of Vancouver's Blue Ways Committee, Western Marine Community Association, Vancouver Maritime Arbitrators Association, Nautical Institute BC Branch, Canadian Safe Boating Council, and Boat for Hope. Non-maritime volunteer participation has included One-to-One Literacy Society, Literacy BC, Air Canada Championship, BC Association of Magazine Publishers, and BC Sports Hall of Fame.
In 2018, Jane was awarded the SS Beaver Medal for Maritime Excellence – an award recognizing individuals who play a leadership role in B.C.'s marine industry. In presenting the award, the Honourable Janet Austin, Lieutenant Governor of British Columbia, noted:
As publisher and editor of BC Shipping News, a well-respected magazine that tracks a wide span of issues including business, technological and economic trends, current developments, and regulatory and legal issues, Jane McIvor is passionate about promoting B.C.'s marine industry and has established a reputation among its members for her knowledge, insight and sense of the industry's pulse.
More about Jane
Maritime Magazine – May, 2020
Pacific Yachting – May, 2020